Peak climbing in Nepal – Top 3 Trekking Destinations To Try Out
Nepal is one of the most distinguished trekking destinations in the world and with good reasons. The globe's tallest mountain Mt Everest (8848) is placed here with other eight of the 14's 8000+m snow covered summits of the planet. Every year millions of people visit Nepal just to explore the trekking adventure it has to offer. The country also features a natural diversity of picturesque landscapes, Himalayan panoramas, fast-flowing rivers, cultural diversity and historic monuments of ancient importance. It's the birthplace of Lord Budha, so the hospitality & treatment towards the guests is always the best. If you are after peak climbing in Nepal, below listed are a few trekking destinations that you must check out:
Annapurna Base Camp (ABC) Trek:
ABC likes in the bottom of the Annapurna mountain range with an altitude of 4130 meters. The trip starts with either drive or flight to the lovely Pokhra city. This tour offers the great vistas of Annapurna range, Hiunchuli, Gangapurna, Dhaulagiri and several other snow covered summits. During your trip you can experience the true Nepalese lifestyle & have close view of their traditions and customs. With ABC trek, you also can join other popular trekking routes of this region such as Jomsom Muktinath,
Ghorepani Poonhill trek
, etc.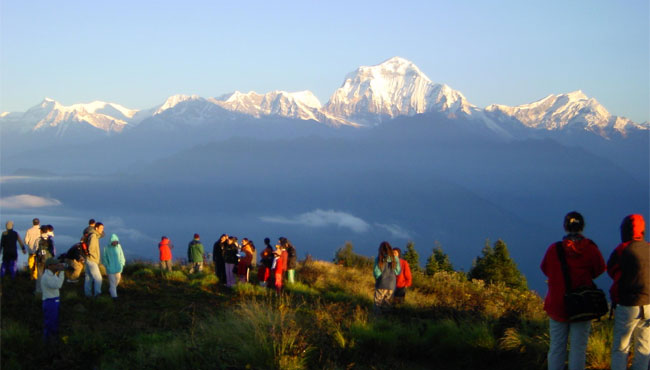 Upper Mustang Trek:
Listed by Lonely Planet in 2013, Upper Mustang is the top 3rd best hiking destination in the earth. The Trans- Himalayan Mustang Region is also known as the Last Forbidden Kingdom. The trail of the journey is through following the salt caravan route of the ancient days. The purpose of the Upper Mustang trek is the capital of Upper Mustang, walled city Lo Manthang.
Langtang Valley Trek:
If you are looking for an out of the box trek that is something different from others, then you must want to check out the less crowded
Langtang valley trek
. It is a 10-days trek that lets you explore a variety of majestic waterfalls. Bamboo and rhododendron forests and the majestic snow covered Hhimalayas. You'll take off your adventurous voyage following a Kathmandu bus drive to Syabru basin. During this trek you will be visiting to many old Buddhist monasteries & glaciers and also relish the local culture and tradition. This hiking can be also continued to Gosaikunda lake & burried valley Helambu.
So, which trekking destination fascinates you the most? Regardless of which destination you choose, one thing is guaranteed you will be thrilled and entertained to the most.